Hand Dryer Buyers Guide
This year we mark the 100th anniversary of the invention of the hand dryer. With more models to choose from than ever before, this simple guide aims to provide you with all the information you need to make the right decision for you and your business.  
Hand Dryer Types
Blade Hand Dryers
First conceived by Dyson, the 'hands in dryer' is considered one of the most hygienic ways of drying your hands. Using two rows of powerful jets, these dryers are designed to blast water off the hands, rather than using warm air to evaporate it. The reason they are considered to be so hygienic is because the water from wet hands stays contained within the unit, preventing it from splashing onto surrounding surfaces or collecting on the floor below.
Due to the extra power of the motors, 'hands in dryers' are typically more expensive. However, there are now a range of manufacturers producing models across a variety of price points. When selecting a 'hands in dryer', we would always recommend making sure that the unit comes with a built-in drip tray that is easy to service. Depending on the amount of traffic these units receive, they may need to be emptied from time to time.
Automatic Hand Dryers
Automatic dryers are by far the most popular type of dryer, known as the 'hands under dryer', they are considered the most cost effective of the two types as they have a much smaller capital outlay. Most businesses taking over a new location or looking to carry out refurbishments, will have these fitted on the wall already.
Designed to replace the original push button dryer, automatic dryers use infrared sensors to detect movement underneath the jet, which signals the drying cycle to start. Thanks to innovation over the years, most suppliers now include a heating element which can be turned up or down depending on the traffic within the washroom. This allows for drying time to be easily adjusted by an engineer or electrician. For anyone looking to invest in a large number of units, we would normally recommend one of our automatic hand dryers.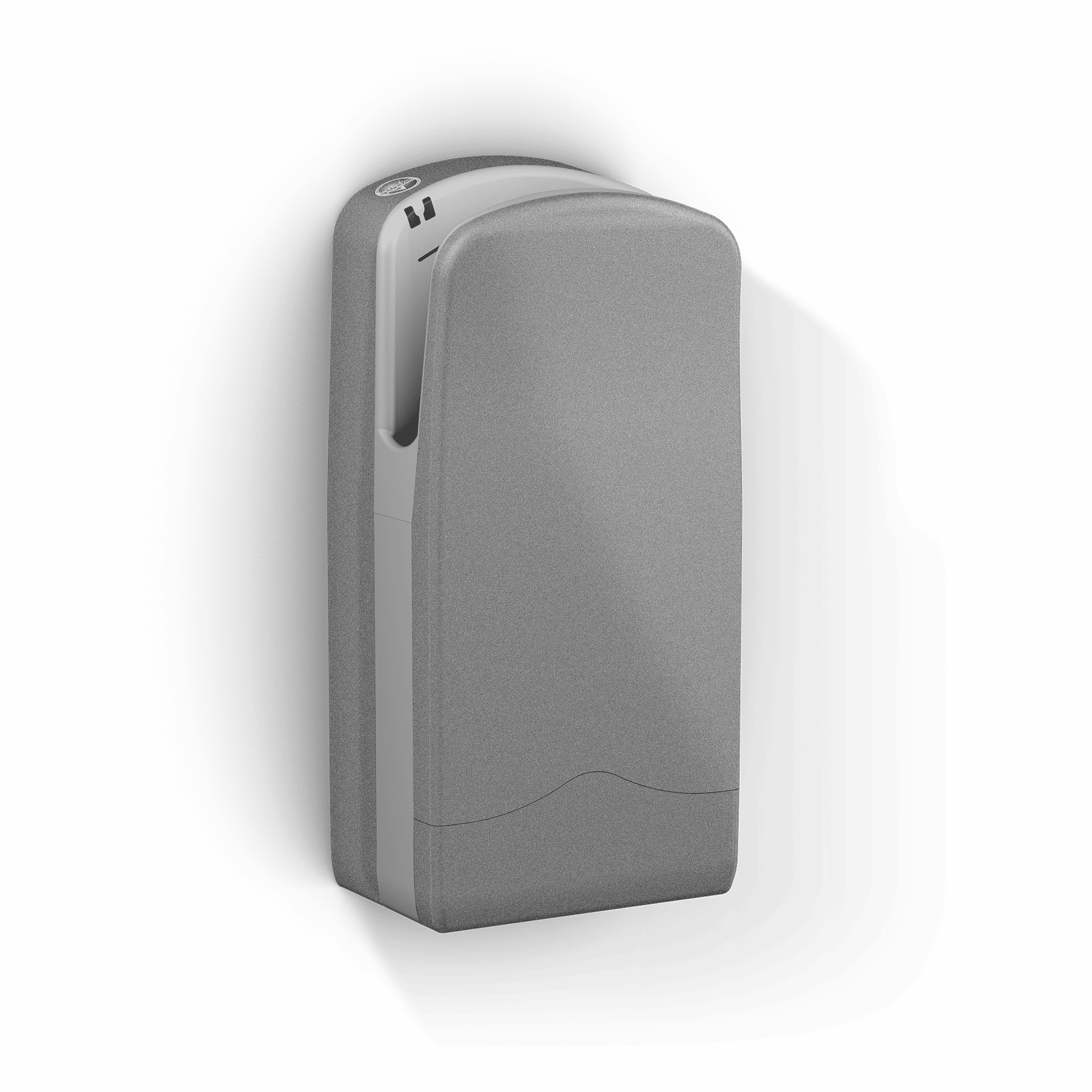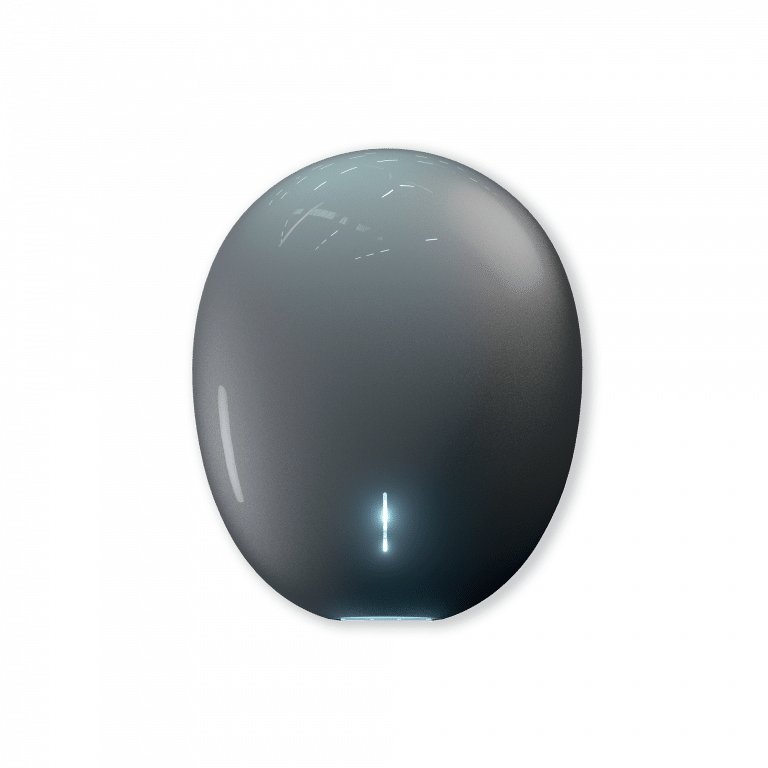 Hand Dryer Features
Appearance and Style
Compared to other pieces of equipment within the washroom, hand dryers are very much on show so it's important that they are in keeping with the surrounding aesthetics. The requirements of a hotel compared to a large distribution centre will be very different so colour is certainly the easiest way to match your equipment to your washroom. The types of finishes we have available are: white, black, polished chrome, brushed chrome, and most recently anthracite.
Shape and style are also decerning characteristics, and many manufacturers are now moving away from traditional square shaped hand dryers. Exploration of shapes such as the oval are becoming more popular, creating a more modern looking dryer that has a smaller footprint on the wall.
Durability
There are a lot of hand dyers on the market that have casings made from ABS plastic. However, if you are looking for durability then we would always recommend something with a stainless-steel construction. Hand dryers represent a sizable investment and it's important to think of both the usage and location when looking at models. If the unit is going in a shopping centre or a tourist attraction, then it is going to have to withstand 'use and abuse', so selecting the right material for your casing will help you ensure longevity.
Drying time
In a high traffic area, it's important that people aren't gathering within the washroom waiting to dry their hands. This is generally when you will start to get issues with people using toilet tissue to dry their hands, which comes with its own hygiene concerns.
Start by assessing how busy your washroom is and speak to your supplier to see what they would recommend. The majority of the dryers we use in our range offer a drying period of under 19 seconds, which is enough time for people to quickly wash, dry, and exit the washroom.
There is sometimes a perception that hand dryers don't actually dry your hands. In these instances, either the wrong unit has been fitted for that environment or people aren't washing their hands properly. A heavy residue of soap or a cheaper soap product on the hands will result in longer drying times. Thorough hand washing and effective drying go hand in hand.
Efficiency
Now more than ever customers are looking for their hand dryers to offer efficiency, and not just in terms of their CO2 output, but also the cost of maintenance and upkeep. Contrary to what people may think, modern hand dryers are becoming increasingly energy efficient and can consume as little as £10 of electricity per year.
Thanks to better materials and technological advancements, we are seeing dryers that are considerably more reliable, needing very little maintenance. However, prevention will always be better than cure, so on all our units we insist on carrying out an annual service visit to make sure the equipment is working properly.
Disinfection
Prior to the pandemic, we were already seeing manufacturers experiment with the idea of incorporating decontamination features into hand dryers. Currently on the market there are units that display UV lights when placing your hands under/in the dryer, killing bacteria as part of the drying cycle.
Most recently there are hand dryers with built in filtration systems (Hepa-filters) which air is passed through before being dispensed. This feature prevents bacteria from building up within the washroom and challenges the misconception that hand dryers are bacteria friendly.
Purchase vs. Rental
One of the main benefits to purchasing any piece of capital equipment, is that it remains your property throughout its life. However, it is important to account for the initial capital expense, which in the case of hand dryers can be costly. If you are fitting two to three dryers then this might not be an issue, but if you are fitting a building with 40-50 dryers; then there will be a significant capital outlay.  Also once that equipment has been fitted it is then your responsibility to maintain the upkeep and carry out regular servicing.
Alternatively, sourcing equipment through a rental agreement gives you the option to spread the cost over the course of the contract, and comes with the reassurance that any issues are covered within the cost. Should a dryer need repairing or replacing, there is a commitment from Shorrock Trichem or your nominated supplier to ensure the equipment is fully operational. In addition to that, you will also receive an annual service visit to help avoid unwanted breakdowns.
Preparing your washroom for installation
Once you've chosen the make model of your hand dryer, we recommend that you carry out the following checks to ensure a quick and smooth installation before giving your supplier the green light to install.
Fuse Spurs
Hand dryers within a washroom environment cannot be connected using a standard pin plug, so you will need to make sure that your installer has access to 1x 13amp fuse spur per dryer. If you already have dryers in place then a straight swap is simple, but if you are changing from a 'hands in dryer' to a 'hands under dryer' or vice versa, then you will more than likely need to relocate the spurs to account for the difference in height between the units.
Dryer Footprint
As technology has improved we've seen hand dryers become a lot smaller, so if you are planning to replace an existing unit then you will need to consider the size of the footprint being left behind on the wall. Our engineers are very proactive at carrying out remedial work and filling holes, but if the wall has been damaged or the unit has been tiled around, it can be difficult to mask the evidence left behind. Before you remove your existing dryers, try to establish if any remedial work is required and speak to a contract ahead of time.
What to ask your supplier
There are a lot of dyers on the market that are cheap and cheerful which look aesthetically pleasing, however the longevity of these dryers can be very limited. The average lifespan of a good quality dryer is 5 years, while lower end models are expected to only last 12 months.
When selecting a dryer always consider the environment and the usage; if your premises is operational 24 hours a day or you have an extended lease, then it is advisable to go with a higher quality dryer. Alternatively, if you have a smaller staffing or you have a short-term lease, then a lower end dryer can be a more suitable option. Making your supplier aware of your circumstances is the best way to find the most appropriate model. 
Hand dryer innovation – what to expect
Filtration systems
Over the past 8 years we have seen radical innovation in the hand dryer market, but over the last 12 months especially, we have seen a growing demand for greater hygiene protocols in the industry. As previously mentioned, there are now hand dryers utilising Hepa-filtration technology, which effectively eliminates 97.97% of allergens, bacteria and pollutants.
Antimicrobial Materials
We are now seeing manufacturers using smart materials. 5 out of 6 models are now fitted with outer casings that are impregnated antimicrobial technology, this technology prevents bacteria and viruses from living on the dryer's outer surfaces.
Connectivity
In the near distant future, we can also expect systems to come to the market that have built in intelligence; allowing businesses to monitor the usage, efficiency, and status of that equipment without leaving the office.
Not only will this allow companies to assess the cost effectiveness of each dryer, it will also help to reduce downtime should that dryer ever need repair, thanks to faster and more accurate reporting.
Plug & Play
Towards the back of 2020 we launched 'The Pebble' which is aesthetically different to our other hand dryers in the sense that it's very modern and unique. However, the main feature that makes 'The Pebble' stand out is that it's the first plug and play system to be incorporated into the Shorrock Trichem line up.
'The Pebble' consists of two separate parts; the first of which is a back plate that is fitted to the wall, containing all of the wiring and electrical aspects of the dryer.  Secondly there is the dryer itself. Should the unit ever fail, it allows an engineer to simply replace the defective dryer by unplugging it from the back plate and fitting a new one.
In regards to site maintenance, it significantly reduces downtime and labour costs. It also means that should a customer decide to change the aesthetics of their washroom in 2-3 years' time, they can simply swap the dryer over for a different colour, without amending their contract or purchasing new equipment.