Eco friendly alternatives are becoming increasingly popular, especially when it comes to commercial cleaning products. Due to our current collective consciousness about the harm chemicals and plastics do to the environment, the need for effective and environmentally friendly products has heightened drastically.  
Traditionally, dishwasher tablets contain chemicals which are great for cleaning your dishes, but not so great for the environment. There are huge benefits to switching to eco, biodegradable dishwasher tablets.
Are dishwasher tablets eco friendly?
No, most dishwasher tablets aren't eco friendly. The biggest issue with popular dishwasher tablets is that they contain high levels of a chemical called phosphate. Once phosphate has cleaned your dishes, it is washed away into rivers, streams and oceans. 
This causes algae and phytoplankton to reproduce beyond normal levels as they feed on the phosphate. The mass overpopulation of the two sit on the water's surface, blocking sunlight which causes an oxygen imbalance, and ultimately kills the marine wildlife.
In addition to these chemicals, dishwasher tablets typically come wrapped in several layers of plastic, which are usually thrown into general waste and ultimately end up in landfill sites.
It is only in the past several years that eco-friendly products have been developed in order to combat these pollution levels. Eco-conscious companies are striving to create zero waste and biodegradable products. 
The EnviroShot dishwasher tablets from Shorrock Trichem are one of the most eco-friendly products for dishwashers. The formula is 100% biodegradable and the packaging is 100% compostable, free from any single use plastics. It also has less transport emissions than liquid alternatives due to its lightweight design.
Does it matter what dishwasher tablets you use?
To answer this simply, yes. Eco-friendly products help the environment, by eliminating the use of non-biodegradable chemicals.
As previously discussed, the chemicals used in traditional detergents can have a huge effect on marine wildlife. Other than the phosphates, cleaners may include:

Phthalates

Sodium Lauryl Sulphate

Chlorine

Ammonia

Sodium Hydroxide
These are known as Volatile Organic Compounds (VOC). 
These chemicals can cause serious harm to humans if there is an over-exposure to them. Symptoms may include respiratory problems, irritated skin and eyes, broken skin, chemical burns and even poisoning. 
A green switch seems to be happening for businesses within the cleaning industry in order to keep their employees safe, and to avoid any of these health problems.
Greener products typically use less plastic, if any plastic at all. Whereas traditional products end up in landfill and contribute to the death and harm of marine wildlife. Green products are packaged in biodegradable or recyclable packaging, making it kinder to the environment. 
A lot of eco-friendly cleaning products can be used in multiple ways, reducing the consumers' need to buy multiple different products. Refillable packaging also allows for easy storage,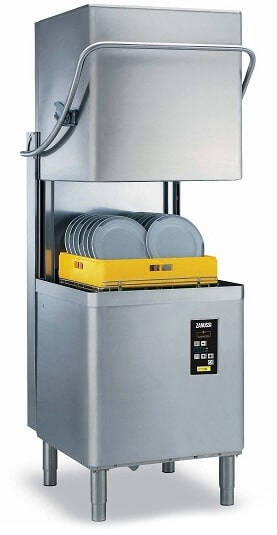 How toxic is dishwasher detergent?
Dishwasher detergent is highly alkaline, meaning it can dissolve into many things, including human tissue, so it is relatively toxic.
Children are especially susceptible to the effects of detergent, which is why all cleaning products must be stored out of reach. 
Despite the fact the chemicals in the detergent may be relatively low, they can still be extremely toxic. The VOC's in the detergent can cause severe damage, such as chemical burns and acute pain in the mouth, tongue and throat.
Liquid detergents are usually more dangerous due to the higher alkaline pH levels. The EnviroShot range has a neutral pH, making it much safer for human use.
Again, all these factors can also have a serious effect on sealife and the environment.  
What to look for in dishwasher tablets
Obviously, the first thing you will want to look for is if the tablets will clean your dishes, but there is so much more to it than that. 
Dishwasher tablets must be safe to use on everything from glassware to tupperware, but they must also be safe for us to use. Using eco-friendly products helps to clean all grime and grease away from your products, and also drastically reduces the amount of exposure you face to the harsh chemicals. 
If storage is a big concern, buying eco dishwasher tablets can help with this. The small tablets are usually packaged in biodegradable or recyclable cardboard, cutting out the big bulky plastic containers. The refillable element allows for easier storage, as dissolvable cleaners are likely packaged in small sachets or tablet forms. 
If you're looking to downsize the amount of bulky cleaning products in your cupboards, there are always eco alternatives such as eco friendly laundry pods and kitchen surface sanitisers. 
Can you get eco-friendly dishwasher tablets?
Yes, there are lots of eco-friendly dishwasher tablets on the market, but it's important you find reliable ones such as the EnviroShot dishwasher tablets.
The tablets are created with a 100% biodegradable formula, the packaging is 100% compostable and free from single use plastics. They are also compatible with all domestic dishwashers, leaving your pots and pans squeaky clean.
Our EnviroShot products are particularly beneficial for businesses as refillable cleaners are far easier to store and use, and can save time on maintenance. 
Our sales representatives can provide a free consultation and offer sustainable alternatives depending on the type of business. Not only does this help your business by suggesting bulk buy deals and offering a constant supply of products, but it also helps the environment too.
Avoiding 'green-washing'
It's important you do your research when looking for eco-friendly products, as with anything, not everything is as transparent as it seems. Unfortunately, a lot of companies will green-wash their products.
A lot of products claim to be eco friendly, yet they still contain single use plastics, causing them to have an environmental impact. The use of the word natural can also be misleading. Just because something is made up of plant derived ingredients, it doesn't mean it's good for you and can actually be just as harmful. 
At Shorrock Trichem, our range of products does stand up to all of its claims, but it's still worth doing your research when looking at other eco companies.
Eco Friendly Dishwasher Tablets with Shorrock Trichem
Looking for eco friendly products can be a minefield, but the EnviroShot range by Shorrock Trichem offers genuine high quality and eco friendly products at a competitive price point. Our products are kind to the planet, but harsh on germs and bacteria.
Whether your cleaning needs are solely household based or for business use, large or small, you can discover the benefits of eco products today. For more information or bulk business orders of plastic free dishwasher tablets, get in touch with our team to discuss your options.