Eco friendly cleaning products are becoming a necessity for business due to the effects of the current climate crisis and the ever growing environmental awareness of the public. 
There are an incredible amount of benefits to switching to green cleaning products. Traditional chemical cleaners hold a lot of environmental and human risk, so it's always best to opt for biodegradable and vegan friendly alternatives where possible.
The EnviroShot cleaning range from Shorrock Trichem provides effective cleaning solutions in environmentally friendly alternatives to traditional cleaners.
Which cleaning products are eco friendly?
At Shorrock Trichem, we have a large variety of eco friendly products which can help start your journey towards having a sustainable and environmentally friendly business.
All of our formulas for our commercial cleaning products are made to be biodegradable. Our packaging is also 100% biodegradable, helping you to make the change towards becoming a zero waste company.
Designed to sanitise high touch point areas, the EnviroShot Eco Friendly Surface Sanitiser is perfect for sanitising hard surfaces in busy environments such as education, healthcare and retail. 
For public or communal toilets, the EnviroShot Eco Friendly Bathroom Surface Cleaner is formulated to kill 99.9% of bacteria and is suitable for all washroom surfaces. The formula helps to prevent the build-up of limescale, whilst also degreasing. 
With fully compostable packaging, and Empty Trigger Spray Bottles made from recycled plastic available, designed to be used time and time again, there's no excuse not for making the transition towards being sustainable.
View our full line of Enviro-shot cleaning products today.
Why choose eco friendly cleaning products for your business?
Harsh cleaning chemicals can be detrimental to the environment, as well as the health of the general public and can impact local wildlife.People are becoming increasingly aware of the impact businesses are having on the environment, and are urging companies to show greater awareness and compassion towards our planet.
Stocking up on cleaning equipment, which is made up of vegan components, can reduce the impact your business has on the environment and contribute towards the battle against the climate crisis.
Our sustainable cleaning products not only help to kill bacteria and leave your business premises clean, they also help you become a more eco friendly business. 
The EnviroShot range eliminates the harsh cleaning chemicals from your everyday business use, allowing you to start to become a proud advocate for environmental sustainability.
Benefits of environmentally friendly cleaning products
There are numerous benefits to switching to green cleaners.
A few benefits include: 
Safer for the environment 

Less harmful to humans

Reduction in plastic waste 

Efficient 

Reduce your carbon footprint

View the full list of benefits of environmentally friendly cleaning products.
How to choose eco friendly cleaning products for your business
Searching for the right eco-friendly products for your business can be a minefield, and not everything is as transparent as it seems. Unfortunately, a lot of companies green-wash their products to appear more sustainable.
There are a few key ingredients you should avoid when buying cleaners, these include:
Phthalates 

Chlorine

Ammonia 

Sodium Hydroxide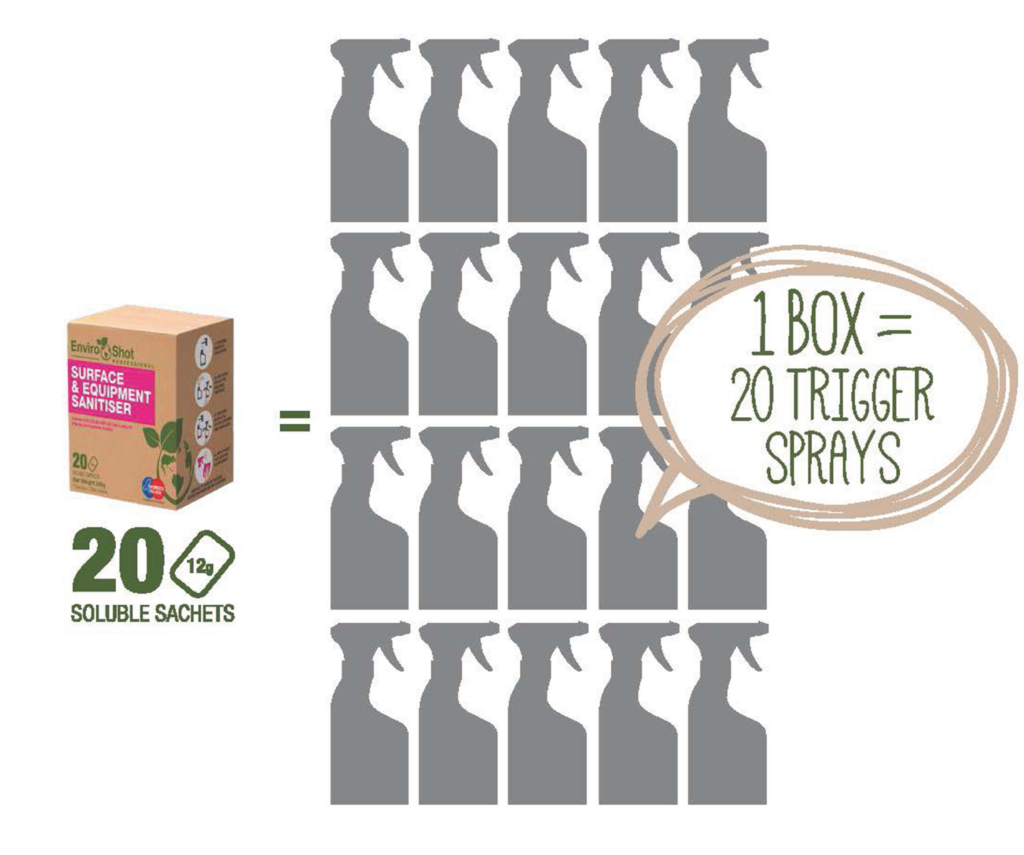 You don't have to be knowledgeable about these chemicals, but it is worth looking out for them in your cleaning products. 
These chemicals can cause serious harm to humans if there is an over-exposure, and symptoms may include respiratory problems, irritated skins and eyes and even poisoning. 
Traditional cleaning products usually also come in heavy, bulky plastic packaging which ends up in landfill. Instead of choosing these products, you should opt for those that come in fully recyclable and/or biodegradable packaging.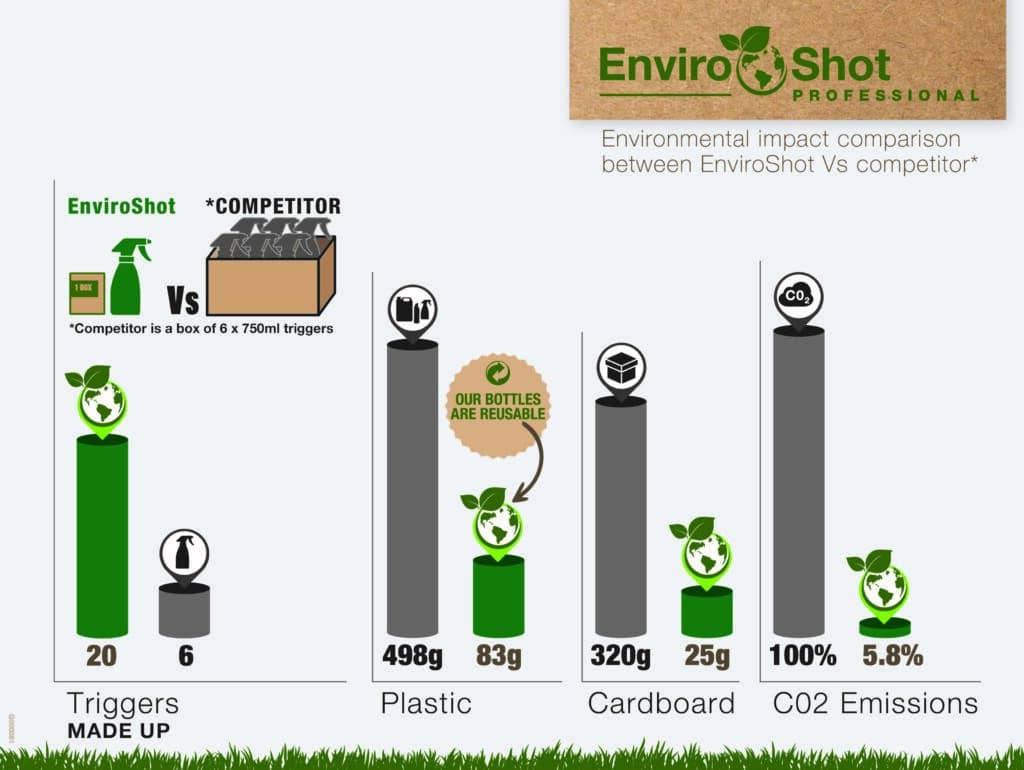 Refillable and multi-purpose packaging is common amongst eco-friendly brands, so always look out for labels which say reusable or refillable. This type of packaging means you cut down on plastic waste, as well as the overall costs of your cleaning products as you only need to buy the actual cleaning liquid or product. 
Green cleaning products typically offer the option of buying in bulk too. This allows you to save expenses in your business and focus your spending elsewhere, whilst also being environmentally conscious by reducing your overall waste. 
Just one box of EnviroShot, for example, approximately the size of a small jar of coffee, is enough to make up 20x trigger sprays!
The EnviroShot range by Shorrock Trichem offers eco-friendly, and incredibly powerful, cleaning products that are kind to us and the planet whilst effectively killing germs and bacteria.
Discover the benefits of our EnviroShot products today and see how we can help your business become cleaner and greener. Get in touch with the team for bulk business orders.